4 min
Develop your skills
INRAE is strongly committed to providing individual and group career support. Training is a key tool in maintaining and developing the skills of its tenured and contractual staff. Each centre has a training manager and dedicated team.

Updated on 02 January 2020
Your training needs are defined and prioritised during your meeting with the unit director or line manager depending on the unit's needs and changes in your job and professional plans, whether in the short or medium term. Other training schemes are also available at the centre and national level.
Below is a non-exhaustive range of options available at INRAE to maintain and develop your skills at every stage of your career.
Training to facilitate taking up your post and planning for job changes
When you take up your post, INRAE offers individual or group training on the skills you need to carry out your daily responsibilities in order to help you adapt to your new position and duties.
Throughout your career, INRAE also offers training to help you enhance your skills and prepare for foreseeable changes related to your job and the institute.
Initiatives to support your professional development plans
Dispotif
Description

Qualifying training

The qualifying training programme (Formation Diplômante – FD) allows tenured and contractual staff to continue or resume their studies in order to obtain a qualification with a view to supporting their career advancement or changing jobs or careers. Accommodations to working hours can be made so that employees can continue working at INRAE.

Staff must have been employed by INRAE for at least three years.

Validation of prior experience

Validation of prior experience (Validation des Acquis de l'Expérience – VAE) allows you to receive a qualification or certification in recognition of your professional experience. Obtaining a qualification may allow you to then register for competitive exams to advance your career.

INRAE offers statutory leave of 24 hours to obtain your VAE and reduced working hours of up to 120 hours along with financial support.

Staff must have been employed by INRAE in a position related to the qualification sought for at least one year.

Professionalisation period

The professionalisation period, which ranges from three months to one year, aims to support employees as they create their career plan by helping them to change jobs or careers. It also provides access to a job requiring new skills or involving different professional responsibilities.
Research schools and technical schools for scientific groups
This training scheme aims to support INRAE's scientific policy orientations and develop the skills of individuals, groups and the federation of working communities and other groups (such as interdisciplinary networks).
Themes include: animal experimentation; maths-IT-bioinformatics-statistics; food security in a context of transition – diverse and multiperformance agriculture; agricultural and forestry systems in the face of climate change; opening science with digital tools; evolving methods and tools etc.
Online educational tools
In addition to individual and group training schemes, INRAE employees can connect to an online learning platform.
Training programmes and multimedia educational resources are available and grouped by category:
Research support (finance, occupational health and safety etc.)

Scientific and technical information

IT tools (office automation,

Mercure

etc.)
Sciences (agroecology, bioinformatics,

FormaSciences

etc.)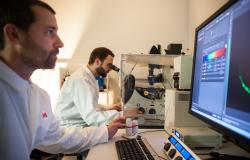 Access reserved for INRAE ​​agents
E-learning platform
Training programmes and multimedia educational resources are available and grouped by category:research support (finance, occupational health and safety etc.), scientific and technical informationIT tools (office automation, Mercure etc.), sciences (agroecology, bioinformatics, FormaSciences etc.)